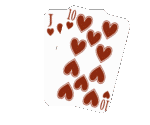 DO YOU PLAY 500?

DO YOU WANT TO PLAY IT BETTER?

DO YOU WANT TO LEARN THE GAME?
Do you want to know one, two, or even all three cards in kitty before you pick it up?

Do you never want to trump a partner's ace again?

Do you know you do not have to short-suit yourself when discarding kitty?

Did you know you can be sure of getting 9 no trumps against the joker?

Did you know that you could get 10 no trumps yourself even though you hold no aces or the joker in your hand? 

Do you accept that if both teams are plus 490 when bidding commences, then one side is going to go down next hand?

AND MUCH MORE!

Then study the information in this web site